I generally don't talk much about gender stereotypes in STEM (science, technology, engineering and math). I try not to add to the noise – until I saw this on xkcd.com (courtesy of a TechCrunch article about… well… gender stereotypes.)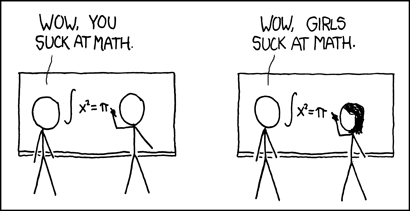 :Girls suck at math"?!! This touched a nerve. It caused a flashback of the Teen Talk Barbie "Math class is tough" incident in 1992 and the aftermath.
What has changed in 21 years? There has been some progress…
Mattel came out with a Pediatrician Barbie.
A few women rose to global prominence in the high tech world: Carly Fiorina, Meg Whitmann, Sheryl Sandberg, Marissa Mayer, many more.
Many successful companies are co-founded and/or led by women. A random East Coast sampling includes CyPhy Works (Helen Greiner, ex iRobot), Data Gravity (Paula Long, ex EqualLogic), Communispace (Diane Hessan), care.com (Sheila Marcelo), OneForty – sold to Hubspot (Laura Fitton), and so on.
…But much work remains.
While the aggregate gender ratio has more or less evened out at MIT, historically male dominated disciplines remain male dominated. According to this slightly stale Quora answer, in 2011 Mechanical Engineering (Course 2) was 36.8% female and EECS (Course 6) was 31.7% female.
In recruiting ME/EE/CS engineers to join our team over the past two years, we noticed the incoming funnel was nowhere near 30-40% female.
When asked to write an essay debunking a stereotype of her choice, my 11 year old immediately chose "Girls can't do math" as her topic.
Oh, of course, there are always moments like this to highlight the "different availability of aptitude" issue (also known as the Larry Summers foot-in-mouth issue).
21 years and not much to show for it. Our school systems are not effective in nipping stereotypes in the bud. Most STEM fields remain male dominated.
What are YOU willing to do to help?
Some practical mitigations are already being done in the startup space. For example, prominent people like Brad Feld have been using their platform to raise awareness. Angel investors like Golden Seeds specialize in investing in women entrepreneurs. There have been versions of the startup weekend catering to women entrepreneurs as well.
Another mitigation is to work on prevention, starting with the younger grades in the school system. Adults (male or female) can proactively mentor young girls who trust them to pursue their interest in things like math clubs, science clubs and robotics leagues. I recently moderated a panel discussion on STEM careers for MIT female undergraduates. I asked each young woman to recount how they ended up at MIT. Everyone had a personal story involving a mentor in a STEM field, who actively coached them to explore these interests. Things like the LEGO league cater to children in Grades 4 through 8, and is a great first experience for girls to try systems level engineering. There are plenty of resources for teaching girls (and boys) to program as well.
A third mitigation is a call to action for female scientists, engineers and technologists to embrace opportunities to speak to school groups about their work. My children's school invites a geologist to come talk to them about rocks and crystals once a year. That brings interest to an area of expertise few children have access to. Even better, the expert is a female role model. If you are a female in STEM, consider what you can do to share your enthusiasm about your work with school groups. Seeing is believing.
The last word of wisdom comes from this Boston Globe article about shattering the glass ceiling. Between this, and Sheryl Sandberg's much anticipated book about leaning in, women should take note: believe in yourself and achieve great things, and you will help inspire the next generation.
I hope that with these and other measures, in another 21 years, no one will be writing yet another blog article lamenting the fact that nothing much has changed.